Introduce: Specialized site to share, guide and update good techniques about programming, applications, servers, blogs, Network cloud, secure storage, ... and New Trends around the world.
---
Check out the notable changes on Firefox 82 just released
---
Mozilla has officially released the new Firefox 82 (stable version) on all supported desktop platforms including Windows, Linux and macOS, with many notable changes, including a host of new features. as well as essential fixes, security patches for a more optimal user experience.
Let's take a look at a few notable improvements and changes on this release shortly.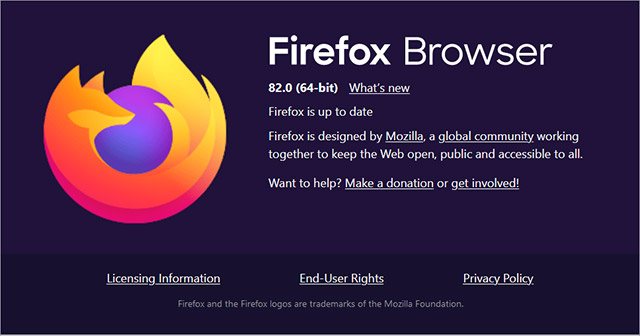 As expected, this is a relatively important update to Firefox, comes with some pretty useful new features that have a big impact on the user experience. Along with that are bug fixes and systematic tweaks that Mozilla recommends that users update their browsers as soon as possible.
First of all, talking about new features, Firefox 82 has added some of the features that browser users have been waiting for, most notably improvements to Picture-In-Picture. With this release, Firefox has introduced a number of improvements that make watching videos more enjoyable:
Button activated Picture-In-Picture mode now has a new interface and has been moved to a different position, making it easier for users to find and use.
Picture-In-Picture can now be quickly activated on the keyboard for Mac users (via the key combination Option + Command + Shift + Right bracket ), active before starting video playback.
For Windows users, Firefox now uses DirectComposition for hardware decoded video. This will help improve CPU and GPU usage during video playback, and above all, optimize battery life for mobile devices.
Also with this new update, Firefox is now faster than ever with improved performance on both page load and startup times:
Websites using a flexbox-based layout are now loaded 20% faster than before.
17% faster session recovery time compared to its predecessor.
For Windows users, opening a new window will happen 10% faster.
In terms of some other notable small additions and changes. You can now discover new articles as you save web pages to Pocket from the Firefox toolbar, and WebRender will continue to be rolled out to more Firefox users on Windows. The screen reader is now adding the ability to report text instead of just line by line as before.
Aside from the changes and additions, as usual, Firefox 82 also comes with some noted security fixes. For full information on security fixes in Firefox 82, refer to Mozilla's support document HERE .
Mozilla has shortened the major update release cycle for Firefox from 6 weeks to 4 weeks, so we will see more dense Firefox updates coming along. This will help Mozilla quickly solve the browser problems, optimizing the user experience.
As usual, the new Firefox version will be delivered to users via the built-in update system, but you can also download it manually using THIS link .
The Firefox vulnerability allows hackers to hijack mobile browsers over a WiFi connection
Mozilla releases the final update to the old Firefox Android version
Mozilla is about to stop supporting the FTP protocol in Firefox
Firefox releases a free password sync app on Android and PC, please download and experience